Glazed surfaces offer something distinct and at times surprisingly beautiful. The idea of the decorative concrete facade panel as something highly refined works well with how houses are built in Northern Europe anyway - cladding facades and hiding the loadbearing structure and sometimes constructing exposed concrete walls that are not as loadbearing as one would think. When the facade is 'just' a facade, tiles in geometric patterns and treated with special surfaces, offer something refreshingly different than the more traditional Nordic material principles, wood, brick and metal. As long as the facade does not look like huge, scary bathroom walls...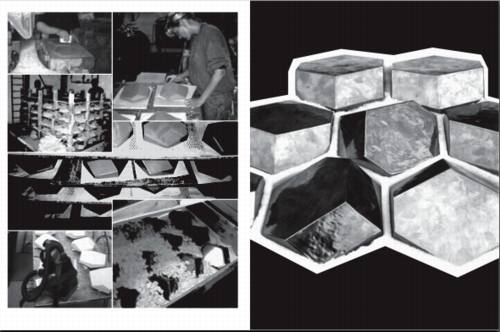 I cannot mention
Anja Bache's glazed concrete investigations
without coming to think of an art installation produced for a Tadao Ando home/museum in Tokyo by Olafur Eliasson, the Icelandic/Danish superstar artist - we love to call him Danish but he has resided in Berlin for almost 20 years now.
Blogger Greg Allen describes the 'quasi brick' as "technically a rhomboid dodecahedron" and continues to remind us how "
it emerged from Olafur's ongoing collaboration with the Icelandic architect and former Frei Otto student and Buckminster Fuller disciple Einar Thorsteinn. Rhomboid dodecahedrons are one of five space-filling polyhedrons, shapes that can stack on themselves and fill a solid space. Like a cube, but without the regularity
."
via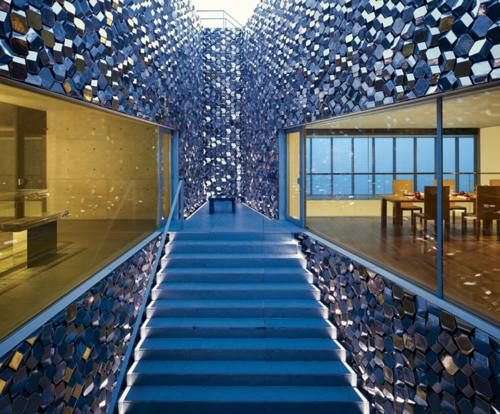 [Platinum glazed bricks, Art installation by Olafur Eliasson in an Tadao Ando house for Takeo Obayashi, the head of one of Japan's leading contractors and a contemporary art collector 2007. via]
Former Eliasson employee Andreas Eggertsen is interviewed in another blog:
The idea of the quasi brick is that it is an expression of high complexity. The quasi brick is a space filling geometry based on "fivefold symmetry", a mathematical description of a quasi-chaotic geometry, which was found by a physicist in the 80´s.
The bricks can be rotated into 6 different positions, and put together randomly they create a very complex pattern. As the Japanese are a very thorough people they were not pleased when the construction had started and we had not supplied them with a list of how each brick should be rotated. As there were thousands of bricks, we had not figured out a way to indicate the exact rotation of each and every brick and thought that it would be easier for the construction workers to rotate the bricks themselves on site.
We did not realize that the Japanese were going to be so confused by this. They could simply not work without a drawing that showed them exactly what to do. So when we received this e-mail we got a bit frustrated. The construction had already started and in order not to delay the entire project we had to supply them with new and accurate drawings the following day. Via, an account by Andreas Eggertsen of some interesting cultural clashes between Japanese regularity and the basic planned chaos rules formed by the brick bond.
[I wonder if the facade turns into a giant mirror ball in the sun? Platinum glazed bricks by Olafur Eliasson and Einar Thorsteinn, via, reproduced from]
The geometry of the brick is fixed as a modular system but as other examples below show, the 'bricks' can be formed from any material.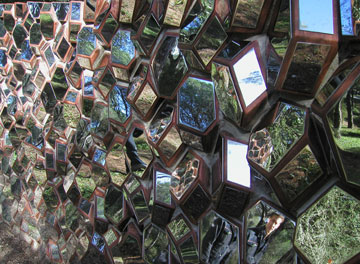 [Quasi bricks made from bent steel and with mirrors, 2002 Basel, via]
[Double-fired quasi brick used for the Blind Pavillon, 2003 Olafur Eliasson in collaboration with Einar Thorsteinn and Petersen Tegl.]
Despite speaking warmly of the glazed tiles, I have rarely come across any in the Nordic neighborhood. Off the top of my head I think of Jørn Utzon who used the patterns created by white glazed and unglazed tiles for the wonderful Bagsværd Kirke with an intentional industrial look and in traditional formats (Also used more spectacularly for the Sydney Opera).
[Detail of tile patterns in glazed tiles used in the iconic
Sydney Opera
,
via
]
The only quasi-bricks that I have experienced in person are the dark, double-fired brick used for the
Blind Pavillon
, 2003. I love, love, love the earthen materiality here, it is so 'of the ground' terroir like architecture. I must say that for a decade now, I have been secretly dreaming of these tiles to clad a project somewhere close by. - The closest one is the cave-like
Royal Danish Playhouse
in Copenhagen by
Lundgaard & Tranberg
and using
Petersen Kolumba Bricks
. But I love and want the sculpted relief pattern as well.
Want more tiles??
Explore more
great tile projects
informally collected at the Danish 'Klink' blog - some remarks are in English and some in Danish.